Schedule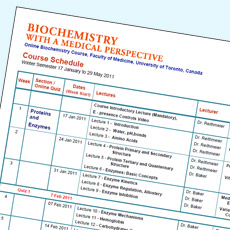 Download the Lecture List and Schedule (PDF) for a detailed breakdown of the course lectures, quizzes, important dates, and more.
Biochemistry with a Medical Perspective is scheduled three times a year, in the fall, winter, and summer semesters.
The 54 video lectures are scheduled three times a week for 18 weeks in the fall and winter semesters, and compressed to 14 weeks in the summer semester. Lectures are made available on a weekly basis over the term.
Please Note: The information to allow access to the course materials is generated three business days after registration. Kindly register in time to start the course on the first day.
Important Dates
Winter 2024
Course Offered
15 January to 25 May 2024
Final Exam Date
24 May 2024, 3hrs
Summer 2024
Course Offered
29 April to 09 August 2024
Final Exam Date
Fall 2023
Course Offered
25 Septemeber 2023 to 24 February 2024
Final Exam Date
24 February 2024, 3hrs
back to top